5 Ways to Improve Your Social Capital - Social Selling Tip of the Day #021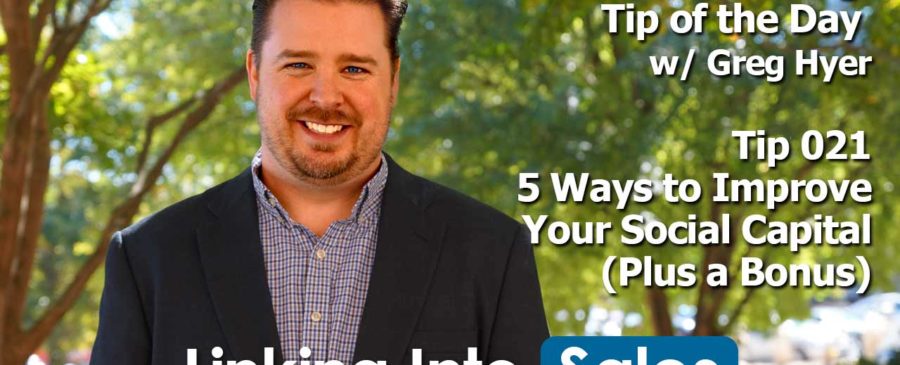 Podcast: Play in new window
Audio Transcript:
Here's your social selling tip of the day for March 6, 2020. I'm Greg Hyer of Linking into Sales.
Social Capital includes the bonds that exist between connections and the resources we have in our social networks. By increasing your Social Capital you increase the value of your network. Bonds describe the type and strengths of each relationship. Resources can include opportunities, leads, ideas, financial capital, etc.
It's important to keep in mind that you don't own social capital. The relationships in your network do. This is why, in social selling, it's important to build and nurture relationships. Usually, the best salespeople are relentless when it comes to building relationships.
So, how do you build Social Capital? Keeping in mind that it's about relationships, here are five ways you can improve your Social Capital.
Improve your reach - By improving your reach you are increasing your potential impact. This means that when you make the right connection you have an opportunity to strengthen the bond you have with that individual which may help make the next connection.
Become more relevant - For this one you have to put yourself in their shoes. If what you have to offer isn't relevant, you're not moving forward and you have no opportunity to reciprocate.
Make an impact that lasts - Resonance is key when it comes to building Social Capital in the minds of your prospects. Do something for them that they will never forget. Continue to do this even after they become a customer. This can come in the form of your strategy that implements the solution they have purchased from you.
Show Expertise - If you know what you're doing, can bring commercial insight, and solve their problem you will improve your Social Capital. If you don't, you'll lose it, fast.
Be credible - Your network talks about you. When they do, do they describe you as the person to go to because you can be trusted to communicate, listen and execute? Do that often enough and your referral business will grow.
BONUS - Build trust - Trust is earned. You can't ask for it. You can't take it. Be honest and do what you say you will do, even if your company fails to deliver.
Social Capital is important to understand when it comes to social selling. Social media has made it a little easier to build it. A simple retweet or a positive comment makes incremental progress towards improving the mindshare with your prospects and customers.
That does it for this social selling tip of the day. In addition to this daily tip, check out the Social Selling Podcast by Linking into Sales on iTunes, Google Play Music, Stitcher, YouTube and Tunein. You can even ask Alexa to play the Social Selling Podcast by Linking into Sales.
If you want to check out any of my other social selling tips, visit LinkingIntoSales.com/alexa to listen to each tip or read the transcript. And for social selling training on-demand visit SocialSelling.Training.
This is Greg Hyer. Let's Start Linking into Sales!