Publicly Own Your Mistakes - Social Selling Tip of the Day #019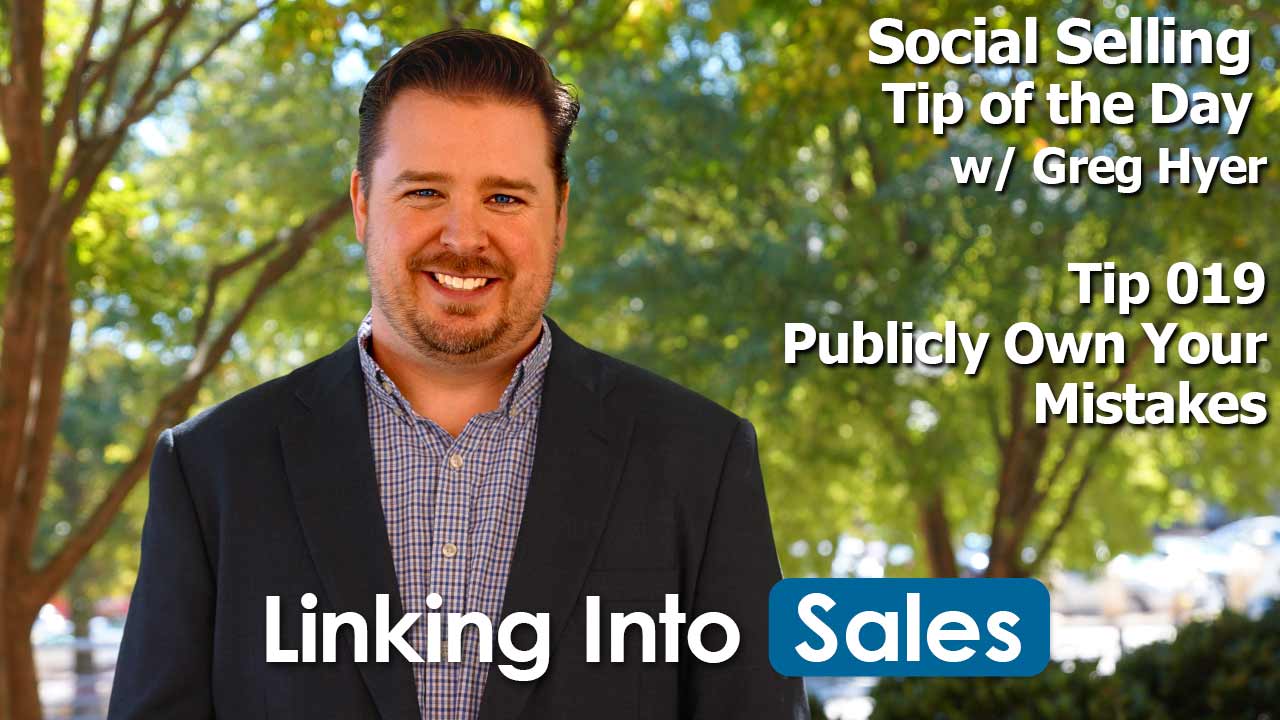 Podcast: Play in new window
Audio Transcript:
Here's your social selling tip of the day for February 27, 2020. I'm Greg Hyer of Linking into Sales.
As you become more active as a social seller, you are going to increase the risk of making a mistake in public. Sure, it's going to feel awful when you do it. Making a mistake that everyone sees is an immense amount of embarrassment to feel. But you can overcome feeling this way and making a situation even worse by quickly admitting the mistake and issuing a correction.
Last night at the 89th Oscars, Warren Beatty read the card he was given for Best Picture after looking a bit confused. The crew from La La Land was on the stage accepting the award when you see a number of event crew come onto the stage, checking the envelopes. It turns out that Beatty was given the wrong card and Moonlight was the winner of Best Picture. The crew from La La Land quickly accepted the mistake and graciously gave their Oscar's to the crew of Moonlight. After the acceptance speech, Beatty explained what happened and Kimmel made a joke to end the show.
Steve Harvey was in a similar situation in the 2015 Miss Universe contest. But he owned up to his mistake and quickly took responsibility to correct it.
When you find yourself in a situation where you have said something online that was wrong or have said something to a prospect that was incorrect, you need to own your mistake and make the correction as fast as possible. You should not be afraid to admit to your customer that you were wrong and why you were wrong.
Mistake happen and cost a business money. More importantly, mistakes will cost you your reputation as a sales person if you don't admit you were wrong. Over time, your reputation for being an honest salesperson will diminish along with your self worth. Instead, own your mistake and do what you can to make it right.
On social media, this could mean you add a comment to something you posted saying that you were wrong. Remember to thank the person for letting you know you were wrong. You need to think through these situations before you find yourself on the nasty end of a political rant on Facebook.
In email, I'd include your manager on your response. I've never met a sales manager or VP that loved surprises. Chances are they have been in your shoes before. If you can admit you need help with this situation, there's a good chance you will get some insights you would have never considered.
If you love your job in social selling, you must learn how to handle being publicly called out when you're wrong. Remember, it's not the fact that you're wrong. It's how you handle it when you're told you are or that you've made a mistake. Be a professional.
That does it for this social selling tip of the day. In addition to this daily tip, check out the Social Selling Podcast by Linking into Sales on iTunes, Google Play Music, Stitcher, YouTube and Tunein. You can even ask Alexa to play the Social Selling Podcast by Linking into Sales.
If you want to check out any of my other social selling tips, visit LinkingIntoSales.com/alexa to listen to each tip or read the transcript. And for social selling training on-demand visit SocialSelling.Training.
This is Greg Hyer. Let's Start Linking into Sales!