Be First to Engage - Social Selling Tip of the Day #022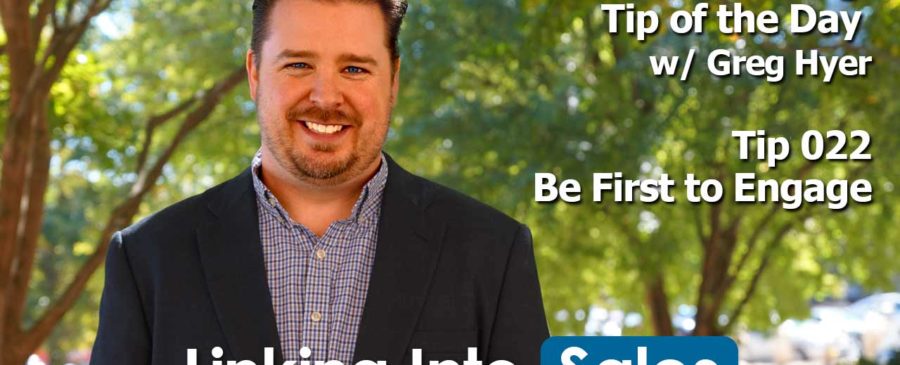 Podcast: Play in new window
Audio Transcript:
Here's your social selling tip of the day for March 13, 2020. I'm Greg Hyer of Linking into Sales.
When the post is right, be the first to engage your prospects and customers on social media. Use this opportunity to get the attention of your prospect and start steering the conversation. Here are a couple stats from LinkedIn to help justify this approach.
LinkedIn Stat 1: People who post or engage in Group discussions get 4 times as many profile views.
LinkedIn Stat 2: Salespeople focused on new business who exceed quota make 39% more engagements each month (likes, comments, reshares).
Being the first to the conversation by commenting, liking or sharing has great benefits in social selling. Just be careful with timing. On Twitter, if the tweet is a couple days old and no one has engaged with it, it may not be a good tweet to use to get your prospects attention. LinkedIn groups have a half life of about 2 weeks. Use your judgement when using this tip. Don't be afraid to take a risk. The people you are selling to in your industry may look at social media updates a little differently.
As part of your Social Selling KPIs, consider tracking if you were the first to engage with this prospect and on which platform. Knowing this may help you identify which engagement have more potential than others.
That does it for this social selling tip of the day. In addition to this daily tip, check out the Social Selling Podcast by Linking into Sales on iTunes, Google Play Music, Stitcher, YouTube and Tunein. You can even ask Alexa to play the Social Selling Podcast by Linking into Sales.
If you want to check out any of my other social selling tips, visit LinkingIntoSales.com/alexa to listen to each tip or read the transcript. And for social selling training on-demand visit SocialSelling.Training.
This is Greg Hyer. Let's Start Linking into Sales!