5 Key Principles of Social Engagement - Social Selling Tip of the Day #023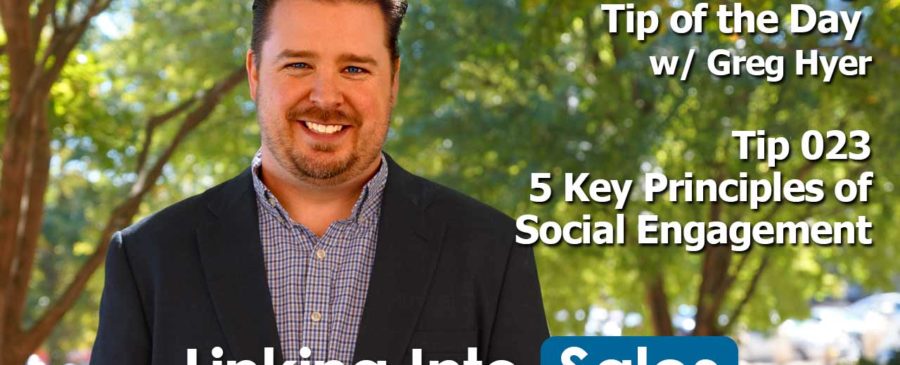 Podcast: Play in new window
Audio Transcript:
Here's your social selling tip of the day for April 18, 2017. I'm Greg Hyer of Linking into Sales.
What is social engagement? It can be defined many ways. But, as it relates to social selling, there's a very specific definition. Social engagement is the act of opening connections by building trust, reciprocating knowledge, giving feedback, both on and offline, one step at a time.
In B2B social selling, social engagement is one of the four social quadrants Martin Brossman and I have developed in our social selling training. The other three are Social Capital, Social Proximity and Social Listening. All four complement each other. Social Engagement simply isn't effective without social capital, social proximity and social listening.
There are five key principles you need to know to be successful with social engagement.
Persistence - On average, it takes 9-12 attempts for a sales person to get a prospect's attention. Most give up after 3. They lack persistence. That mean's an opportunity for you. Persist.
Consistency - Your message, actions and follow-through must be consistent throughout the engagement. Stay on message. Keep your promises. Deliver because you said you would.
Insight - Combine your past experiences and data to bring forth the knowledge your prospect or client needs in anticipation of their need to make an informed decision.
Intelligence - This is our ability to recognize and collect valuable information that can be used to make informed decisions. This includes being aware of your competition and their influence on your prospect or client.
Feedback Loop - This is a system for improving engagement by collecting data and reacting to those that engage with you. It should be used to help improve your social engagement skills.
Understanding these five principles of social engagement will prepare you for how to engage on social media platforms like LinkedIn, Twitter and Facebook. They are important to understand because most salespeople don't get social engagement right. And when they fail, they abandon the idea of using the internet to support their sales engagements. This is flawed thinking and they need to listen to our podcast more often.
That does it for this social selling tip of the day. In addition to this daily tip, check out the Social Selling Podcast by Linking into Sales on iTunes, Google Play Music, Stitcher, YouTube and Tunein. You can even ask Alexa to play the Social Selling Podcast by Linking into Sales.
If you want to check out any of my other social selling tips, visit LinkingIntoSales.com/alexa to listen to each tip or read the transcript. And for social selling training on-demand visit SocialSelling.Training.
This is Greg Hyer. Let's Start Linking into Sales!