5 Aspects of LinkedIn Social Selling Index to Conquer Today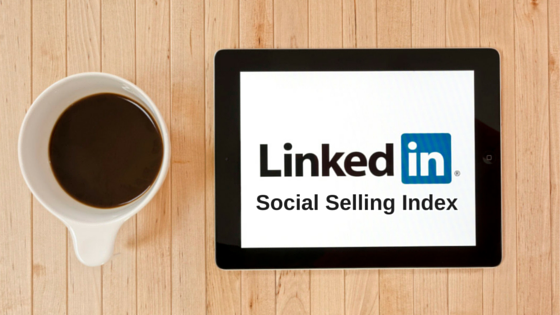 Social Selling Professionals need to understand their LinkedIn SSI
Everyone's talking today about increasing their SSI (Social Selling Index on LinkedIn). According to the platform itself, "Your Social Selling Index measures how effective you are at establishing your professional brand, finding the right people, engaging with insights, and building relationships. It is updated daily."
So, this means you can take some actions starting today to increase your SSI and, hence, visibility on LinkedIn. Staying top of mind will help you win more business, which is your ultimate goal. I personally have been practicing Social Selling since 2011. Below you can see my SSI.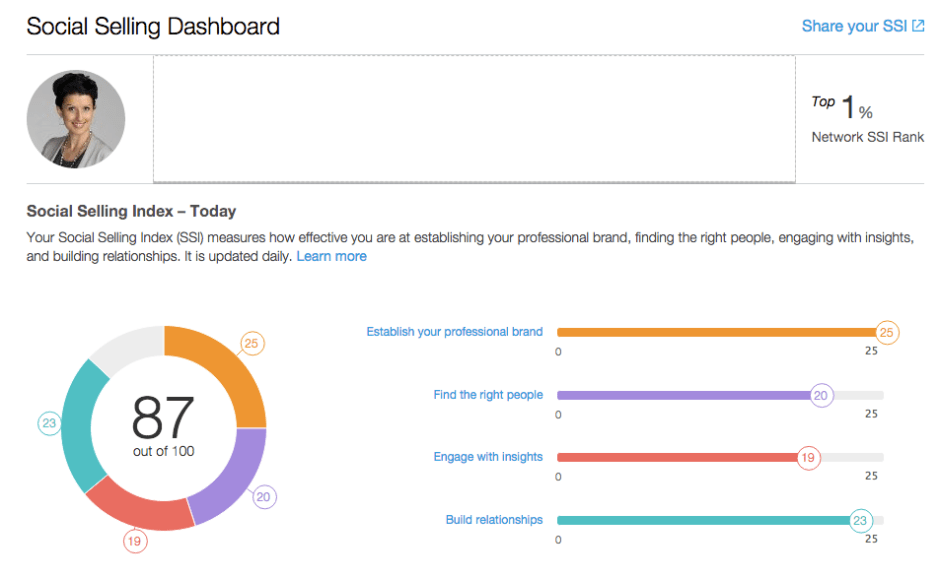 I'd like to share with you the 5 aspects of LinkedIn SSI you need to conquer today.
1. Establish your professional brand.
Complete your profile with customer in mind, including professional picture and headline that reflects your value proposition. Write a summary that explains how you help the customer do their job better, be more competitive, or increase profitability.
Hopefully you already have your Buyer Persona portfolio created to first understand exactly whom you're targeting. If not, here's how to create Buyer Persona portfolio that will help you get best ROI on your Social Selling efforts. Have complete clarity regarding their goals and then address their pain points in your LinkedIn summary with the solutions you, your product, or your service offer.
Add rich-media files to your profile. Leverage videos, Slideshare presentations, client testimonial links, etc. Publish valuable content via LinkedIn Publisher and make sure your articles help customers see your thought leadership. And I mean articles, such as written value-added posts that contain 300-500 words grouped into paragraphs with headings and bullet points and formatted in the way that's easy to read.
Keep in mind that 92% of B2B buyers today engage with sales professionals who are known as industry thought leaders. Oh! And remember to list your relevant skills and gather endorsements to feature on your LinkedIn profile.
2. Find the right people.
Leverage LinkedIn search and research tools to find the right prospects, generate leads, and build your pipeline. Social Selling Sales reps who exceed their quota, save 45% more leads on LinkedIn than those who don't exceed their established quota.
Search for titles, industries, accounts (companies), and leads (people). If the title has several words, use this format "Vice President" but if only one word, simply type VP.
Remember to harness the power of introductions. Just see whom you know among your prospect's 1st degree connections and message them an introduction request.
It's critical that you "help them help you" as I always say. What I mean is that you need to make it easy for people to help you. Type into your message what they can copy and paste when introducing you. If they have to stop and think, you'll have to wait forever. So, do the work and help them help you!
Regularly review the "Who's Viewed Your Profile" section and see whom you need to connect with. Oh! The most important thing… personalize every message, every connection request, every InMail you send, and you will definitely stand out, entice action, and create engagement.
If you have access to LinkedIn Sales Navigator, here's a great video-based 1-hour course demonstrating how to find accounts and leads. It's called "Up And Running With Sales Navigator" and after completing it myself, I highly recommend it to anyone using the tool.
3. Share valuable content and resources.
LinkedIn is all about relationships, and relationships are all about engagement in conversations. Read what your prospects share and comment on it, ask meaningful questions, provide solutions to their problems, or make helpful introductions.
Share content in your status updates. Post thoughtful comments in LinkedIn groups. Social Selling Sales reps who exceed their quota tend to get 74% more engagement on their LinkedIn updates that those who don't exceed their quota.
When reaching out, use recent and relevant information about prospects / accounts to spark a conversation. And by the way, sales reps who belong to LinkedIn Groups are 70% more likely to get an appointment or an unexpected sale. So, join groups and stay engaged!
4. Build relationships.
Research shows that 73% of B2B buyers prefer to do business with sales reps who have been referred to them by someone they know. Hence, you need to know a lot of people who know a lot of people. So, make it your priority to connect with people on a consistent basis, expand your network as much as possible, especially focus on decision-makers. The more people you're connected to, the more people you'll be able to reach out to directly when you need it most.
5. Develop a workflow to follow.
I shared in my recent LinkedIn post about Social Selling Index what routines I use to keep my SSI around 87-88 and stay in the top 1% of the network, based on my rating. It's essential to understand the value, the importance, and the contribution of LinkedIn SSI to your success.
Write down your daily, weekly, and monthly actions you need to take and just remember that it's not what you know, but what you do with what you know that makes you successful.
So, now when I shared all this info with you, what action will you take? Visit the LinkedIn Social Selling Index page to discover your score.
Post your comments below and let me know how these tips work for you or share your own effective LinkedIn tips with us. Follow me on Twitter @EQforSuccess and thanks for reading!
Editor's Note: Greg Hyer and Martin Brossman spoke with Anna Stevens about the LinkedIn Social Selling Index score in Episode 74 of the Linking into Sales Social Selling Podcast. Watch this episode to hear more of Anna's perspective.
Anna Stevens, JD MBA is a contributor to Linking into Sales
Anna Stevens is a Digital Marketing Ninja and a true LinkedIn Evangelist. She helped many business people harness the power of LinkedIn, including doctors, attorneys, real estate agents, franchisers, insurance agents, consultants, and corporate salesforce. Anna is originally from Russia where she earned her law degree. She has lived in Atlanta for 7 years and earned her MBA from Georgia State University. Anna started practicing Social Selling on LinkedIn back in 2011 and was even interviewed on All News Atlanta with her effective LinkedIn strategies that deliver business results. She is also an award-winning author of a goal-setting book called "Turn Your Dreams And Wants Into Achievable SMART Goals!"