Smarketing's Role in your Company's Social Selling Success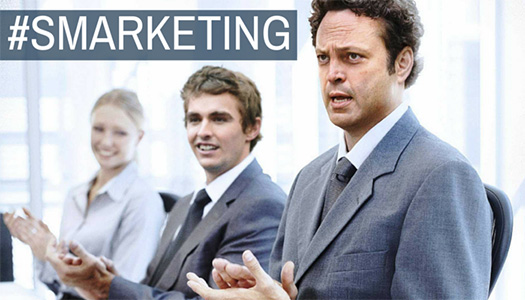 Smarketing - How Alignment of Sales and Marketing will Drive Social Selling Success
It used to be that the salespeople were the information keepers and the subject matter experts that buyers would turn to when they needed a solution to their problem. And it used to be that marketing was push, outbound, interruptive, and company-focused. The digital evolution has shifted the balance of power. So, today 57% of B2B buyers start and finish their decision-making process online, without ever having a contact with a sales person. That caused marketing to become different. Today it's all about pull-marketing, inbound marketing, attractive and customer-focused marketing. And this shift of power is exactly the reason why there's no place or time for the same-old-same-old war between sales and marketing. It's over!
Organizations can win in today's competitive business landscape if they embrace Smarketing. That's why the topic of this article is SMARKETING and the role it plays in your company's Social Selling success. We already know that Social Selling is all about helping your salesforce become focused on creating demand, not just fulfilling it, so Social Selling ultimately transforms your salespeople into marketing-minded ninjas. Now, let's define Smarketing. Since I'm inbound certified by the Hubspot Academy, let's look at Hubspot's definition:
[blockquote]"The term "Smarketing" refers to alignment between your sales and marketing teams created through frequent and direct communication between the two. The purpose is to have measurable goals that each team agrees to hit so there's mutual accountability." - Hubspot [/blockquote]
According to this study by the Aberdeen Group, companies with strong sales and marketing alignment get 20% annual revenue growth. How would your company like to boost its bottom line by 20%? I think I pretty much know the answer! So, what do you do? Where do you go from here? Keep on reading. I have some strategic solutions for you below.
SAP commissioned Loudhouse, an independent research agency, to undertake a study of 1220 global business buyers to better understand the changing dynamic between the buyer and the seller. The survey sampled senior business decision makers (actual buyers) from enterprise organizations across 10 countries with responsibility for buying goods and services ranging from technology, business, and recruitment services to facilities and fleet cars. Here are some interesting findings and actions your organization can take.
60% of buyers make purchasing decisions based on employee recommendations
Your company needs to enable its employees to advocate for the brand. How? By building an Employee Advocacy movement. This way marketing will empower employees, including salespeople, to share value-added, brand-approved content that will touch their personal networks on a consistent basis and help buyers make favorable decisions when they are ready to buy.
50% of buyers use social media channels to help make decisions
Couple this statistic with the fact that trust is rated as the single most important factor when purchasing products / services from vendors, and you can be confident that your company marketing needs to leverage its internal brand ambassadors to build the trust that the sales team can harness to be able to sell. According to Forrest survey of 58K respondents, nearly 70% of adults trust brand and product recommendations from friends and family while only 10% trust ads by brands.
68% of buyers wait longer to initiate contact with vendors because they are doing more research themselves
Marketing needs to build an always-on content factory that supplies the Buyer Persona with needed content based on what stage of the Buyer's Journey they are at. Blogs, infographics, videos, slide decks, definitive guides, checklists, testimonials from clients, reviews, case studies, white papers, ebooks, industry reports, vendor comparison 1-pagers, cheat sheets, and so much more. Marketing needs to produce content and sales needs to communicate to marketing their content expectations. Marketers tend to be focused on SEO and keywords, product launches and influencer contributions when thinking about content, but sales team counts and content produced has to to meet salespeople's content needs.
91% of buyers say they have higher expectations of vendors and their sales people than they did before
Marketing needs to teach salespeople how to leverage Linkedin and Twitter for building relationships with prospects. Another way marketing can help is train salesforce on blogging best practices, so that sales team members can start creating thought leadership content and gain visibility, likability, and respect in the online community where buyers are looking for answers. Marketing can teach how to harness the power of Twitter video and Instagram video for live demos and to help sales people build engagement online. Humans like to do business with humans, and what's the best way to establish and nurture that human connection? Video of course.
To summarize, your company can succeed at Social Selling if it aligns sales and marketing and unites the couple into Smarketing to ensure the agreement upon goals, terminology, tools, performance incentives, training, collaboration, and values.
What actions will you take as a result of reading this article? Please let me know on Twitter at @EQforSuccess with hashtags #SocialSelling and #Smarketing. I look forward to your comments!
Image Credit: iStock by Getty Images