Visibility Leads to Opportunity - Social Selling Tip of the Day #027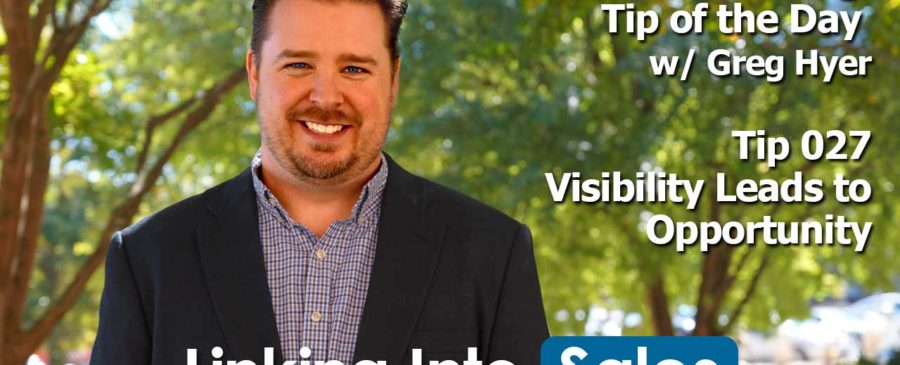 Audio Transcript:
Here's your social selling tip of the day for May 16, 2020. I'm Greg Hyer of Linking into Sales.
Koka Sexton, the Godfather of Social Selling, says that visibility leads to opportunity. For sales pros, this couldn't be more true. For those that practice social selling, visibility is critical. If you're not visibile, you don't exist.
This is why focusing on one social media network for prospecting or lead nurturing is a bad strategy. If you spend all your time and effort growing your LinkedIn network and ignore your brand on Twitter, Facebook, Instagram, YouTube, Snapchat and others you could be doing yourself more harm than good. By not being visible on other social networks you could be raising doubts about your authenticity as a sales professionals.
According to a study conducted by IDC, 75% of B2B buyers are significantly influenced by social media and 84% of senior executives are use social media to support their purchase decisions. These decisions are not confined to a single social network. LinkedIn and Twitter are the top choices for B2B buyers. However, it's important to remember you can use platforms like YouTube, Instagram, Pinterest and may others to improve the visibility of the content you are sharing as well as use these platforms to create insightful experiences. For example, you can use YouTube to create a news round up video that you can post on LinkedIn and Twitter. You can create a Pinterest board with helpful infographics that will help bring insights to your followers on Twitter.
Yes, time can be a challenge. But as the old saying goes, "Rome wasn't built in a day." Same goes for your career in social selling. Use multiple social networks to increase your visibility and opportunities will follow.
That does it for this social selling tip of the day. In addition to this daily tip, check out the Social Selling Podcast by Linking into Sales on iTunes, Google Play Music, Stitcher, YouTube and Tunein. You can even ask Alexa to play the Social Selling Podcast by Linking into Sales.
If you want to check out any of my other social selling tips, visit LinkingIntoSales.com/alexa to listen to each tip or read the transcript. And for social selling training on-demand visit SocialSelling.Training.
This is Greg Hyer. Let's Start Linking into Sales!